ATTENTION, WE HAVE NEW TRANSACTION ACCOUNT
You are invited to experience ancient healing techniques involving breathing, sound healing and deep relaxation.
by: Neja and Petr Zupan

Who is this intended for?
Suitable for anyone wishing to improve their wellbeing and gain clarity and insight into living a fulfilling and more enjoyable life.
Why join in?
Ancient peoples knew instinctively how to connect deeply with themselves and bring about natural healing and peace. Learn and experience techniques which have been practiced for centuries. We all have a unique energy field vibration, gifts and talents. Discovering these and expressing them in the world can bring about great joy.
It is a very valuable life skill to learn how to positively influence the energies of your body and ultimately your thoughts.
Throughout the workshop you will be guided into a state of deep relaxation in which you will be able to perceive information which is not normally detectable in the normal state of consciousness. You will be connecting with delta, theta and alpha brain waves to allow you to access the deepest parts of yourself. Being more aware of what is happening at a subconscious level allows you to more easily create your reality, choose responses and program yourself for success. You will in fact be influencing your own energy and thoughts!
Benefits include:
a deeper connection to yourself, elimination of fatigue
release of stress and emotional tension, inner silence and peace
harmony
stimulation of brain function
becoming creative
regenerate and receive healing energy, create and design your own life!
Watch Pearls Sonic Waterfall Video: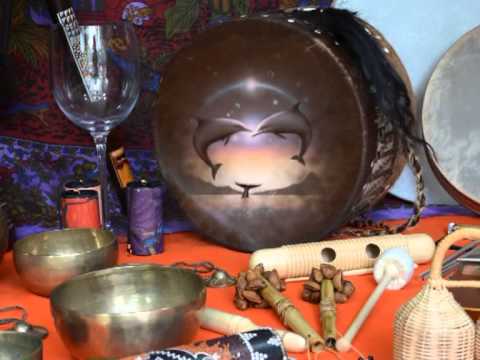 What happens?
The workshop is split into 4 stages
1. iVitalis guided meditation
Simple meditation of holding hands on reflex points on the body are used to balance the energy flow in your body. The energy field stabilizes and is prepared for the sound vibrations and breathing which follows.
2. Holotropic breathwork
Holotropic breathwork is a special form of breathing which enables you to recognize and release any stuck emotions and thoughts. As air is life, breathing brings fresh air into our body, manifesting new life. A refreshed body is ready to learn and grow.
3. Shamanic journey with a drum
Drumming has been used for thousands of years by ancient peoples as a powerful medium of self-realization and entering into realms of higher consciousness. The vibration of a drum beat is used to lead you into a heightened state of awareness. In this deep state, you will gain insights and clarity regarding your personal situation.
4. Relaxation
The relaxation phase is a place of integration to allow you to consider your own understanding and knowledge. You will be able to contemplate how to use your new knowledge in real-life situations.
All four stages of the pearls sonic waterfall form a complete 4-hour session in which every individual will experience relaxation, insights, clarity, and learning. You will not have to remove any clothing (just your shoes for comfort). This is a unique personal experience and, although conducted in a group setting, you will not be expected to talk about your experiences with others.
What to bring / wear?
– a small bottle of water
– a yoga mat or blanket to lie on
– a blanket or polar fleece to cover you
– 
wear comfortable warm layers and socks
– 
a blindfold
Number of places is limited. Board of participants at 1 pm. The program finishes in late evening hours (around 9 pm).
EARLY BIRD registration fee is 103,70€* click LINK for the date
Regular price 140,30eur*
*Price include 22% VAT and donation.
Your registration will be confirmed after the payment and after submission of contact details: name, surname, tel. number, address, via email.
Registrations are open until, 3rd May 2018, or until we reach venue capacity.
Contact details:
eMail: petr.zupan@bisernica.si
Skype: petr.zupan
FB: Petr Zupan
Mobile, Viber and WhatsApp: +386 40 244 429
Payment:
BISERNICA CONSULTING, NEJA ZUPAN S.P.
Bickova ulica 17
SI-4000 Kranj
Slovenia EU
SI 59406224
SKB Bank, Ajdovscina 4, 1513 Ljubljana
IBAN: SI56 0313 8100 0939 104
BIC: SKBASI2X

TERMS AND CONDITIONS:
– in case of our cancellation we will refund 100% of payment
– in case of your cancellation until 3 days before date of workshop refund is 50% of payment, in case of later cancellation no refund
– location and recommendation regarding food will be announced later to everyone who will be registered
– in case of change of location organizers have the right to change the price of the workshop

Other workshops and treatments available:
for more info click the links
Abhyanga – Ayurvedic massage
Bioresonance treatment
Nasya nasal treatment
Energy Kinesiotherapy
Programmers massage
Swedish / Classic massage